Our #LikeYouCare campaign aims to change driving culture by encouraging drivers to think about the road as a shared space and make driving decisions that show they care about the safety of themselves and the others.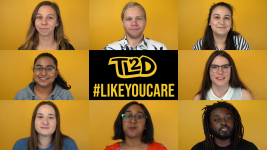 #LikeYouCare encourages people to remember that roads connect people to people. Every driver, passenger, cyclist, pedestrian, is somebody's somebody. This campaign is a reminder to drive #LikeYouCare about the other people on the road because your choices affect them too.
Join the #LikeYouCare movement by sharing our Public Service Announcement and driving #LikeYouCare
!